Path
Via Bregaglia is a mountain path. The use of correct equipment and clothing is recommended. Guided excursions only on request.
The Swiss - Italian border
In order to cross over the border whether swiss citizen or member of the European community requires a valid document such as an identity card or passport. Citizens from other states should request relevant information from their consulate.
Luggage transport
We recommend the use of a strong travel bag or suitcase with your name tag attached. The transport of a single piece of luggage is included in the package. Any other luggage will be subject to a supplement. The luggage transport from/to Savogno is not possible.
Parking
Because parking at hotels is strictly limited please use them only after making an arrangement with the hotel itself. Free parking in Maloja on request with a proper voucher. (these must be completed and placed conspicuously in the car windscreen area).
Packed lunches
The packed lunch you will receive from the hotel each morning contains all lunch requirements (1 drink 0.5 l, 1 sandwich, 1 energetic bar, 1 fruit).
Further food and drink can of course be purchased at the end of any particular stage.
Hotels in Italy
In Italy you must produce an identity card or passport at check-in at hotel or other form of accommodation. In some hotels the document may be retained at reception for the duration of your stay and returned on check-out.
Dogs
The use of a muzzle is obligatory on public transport in Italy, and in some towns the collection and disposal of excrement is a requirement too.
Rubbish
After any picnic lunch please do not leave any rubbish lying around to ensure that the next hiker along the via Bregaglia enjoys it as much as you. Many thanks!
Grazie mille!
Return journey from/to Chiavenna
Return journey to place of departure not included in the cost of package.
For more informations consult website:
www.postauto.ch
Autopostale - Timetable 2015 (download pdf)
Left Luggage - Chiavenna
Luggage can be left at the tourist information office within the railway station at Chiavenna.
Tariffs:
Up to 2 hours € 1.00 per bag
2 - 4 hours € 2.00 per bag
All day long € 4.00 per bag
Left luggage facilities for groups is available only by prior arrangement (Telephone +39 0343 37485)
Alpine Guide
The Associazione Guide Alpine Valchiavenna is available for excursionists to illustrate different stretches of the route. It is possible, with a guide, to deepen one's knowledge of mountain aspects, of the culture, history and territory of the area in which the itinerary winds.
Duration of the Walks
Times indicated for each stage are a rough guide and do not include breaks and visits. Obviously an individual's natural rhythm of walking will mean that times vary. We also recommend that when calculating the timing for each stage you allow for opportunities to explore all that the route has to offer along the way.
Maloja - Casaccia: ca. 1h
Casaccia - Vicosoprano: ca. 2h30'
Casaccia - Soglio: ca. 5h
Vicosoprano - Stampa - Promontogno: ca. 2h30'
Stampa - Soglio - Castasegna: ca. 2h30'
Soglio - Savogno: ca. 6h
Savogno - Chiavenna: ca. 2h
Promontogno - Ceresc - Monti di Villa - Chiavenna: ca. 7h
Chiavenna - Monti di Piuro/Villa 6h and Villa- Bondo 1h
Promontogno - Castasegna: ca. 1h
Castasegna - Chiavenna: ca. 4h
Vicosoprano - Castasegna 3h
Castasegna - Villa di Chiavenna 1h
Villa di Chiavenna - Chiavenna 3h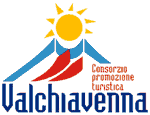 Consorzio per la Promozione Turistica della Valchiavenna
Piazza Caduti per la Libertà - 23022 Chiavenna (SO)
Tel +39 0343 37485 - Fax +39 0343 37361
http://www.valchiavenna.com
consorzioturistico@valchiavenna.com